Music comedy performance for workers in Tan Tao Industrial Park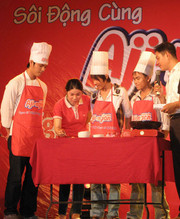 A music and comedy performance for employees in the Tan Tao Industrial Park called "Excitement with Aji-ngon flavor seasonings" was held in the evening November 20 by the Management Board of Tan Tao IP in coordination with the Ajinomoto and the 3600 Communication and Marketing Company.
The performance was also attended by ITA Group's representatives comprising of Vice-head of the Administrative- Personnel Department Nguyen Trong Dung, and Vice-head of the Labor Union Ha Van Dung, the Marketing and Communications Manager of the 3600 Company Doan Cao Thanh, and the Director of the Southern Sales Division of the Ajinomoto Company.
The night was full of excitement, with boisterous and lively performances from the celebrated music stars Nhat Tinh Anh, Pham Thanh Thao, Duy Khanh, and the Kitty band.
The audiences truly enjoyed the free music and comedy performances, listening to the nutrition consultation for workers and then took part in the "Spinning the Wheel" game for the prizes of 21inch Samsung television set, Luymix gas cooker and high-quality tea-set.
The 21 inch Samsung television special prize is presented to the winner.
Later in the night, Chef Minh Tam gave a cook's guide to the cuisines of simple, quickly cooked dishes such as waky pumpkin soup, stir-fried meat, fried rice and others to ensure the adequate nutrition for families.
Members of the audience also joined the on-stage cooking with the prepared food to make the quickest cooked, the most delicious and the most eye-catching serving dishes which were selected by the Examination Board to win attractive Aji-ngon flavor seasonings presents.
The Examination Board appraises the dishes cooked with the Aji-ngon flavor seasonings
The ITA Group, together with the Labor Union of the HCM City Industrial and Processing Zone Authority, frequently holds music and comedy performances for employees in the Industrial Park. Additionally, the Management Board of the Tan Tao IP coordinates with prestigious brands to sell goods at discount prices for employees just before the Tet holidays.
Viet Thang (Translated by)