"Vietnam - Asia's Rising Star" Conference Underway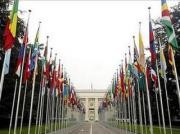 A Business Roundtable with the Government of Vietnam will be conducted for the first time in Vietnam today, January 8th, in Hanoi in coordination with the British newspaper The Economist and The World and Vietnam Newspaper of the Ministry of Foreign Affairs.
With the title and topic "Vietnam - Asia's Rising Star," representatives of companies and large business groups worldwide will exchange ideas with representatives of Vietnamese government ministries on issues including investment policies and business environments, reforms and banking consolidation, opening and creating opportunities for foreign investors, developing key growth fields, and manpower development in the direction of sustainable development.
Prior to the conference, on January 7, the Organizing Board of The Economist held a press conference with the participation of representatives of large business groups in Vietnam including HSBC Bank, Indochina Capitol Group and Nokia Siemens Network.
Speakers consistently share opinions on the bright prospects of Vietnam 's economy, with positive elements such as: a young and developing labor force, lower-cost labor than neighboring countries, and the advancement of technology. Moreover, Vietnam always maintains its high and sustainable growth rate. "In 2008, we expect Vietnam will have a 8.8% growth rate and may be higher in the following year. This has proved that Vietnam 's policies of economic development are on the right track," said Mr. Justin Wood, a specialist on South East Asia at The Economist.
According to Peter Ryder, Managing Director of Indochina Capital, Vietnam 's FDI in 2007 equals 25% of the total FDI in the past fifteen years. Mr. Ryder said, "In contrast to other export intensified economies, Vietnam will develop in balance with the domestic market while some countries including Korea and Japan had a exporting proportion of 60-80 % GDP in the early period of development." He added that Vietnam is the second safest country in the world and the safest one in Southeast Asia. "This is a very important element to investors," he noted.
According to Mr. Charles Goddard, Chairman of the Editorial Board of Pacific-Southeast Asia of The Economist's Intelligent Unit and Co-Chairman of the conference, 65% of participants are leaders of multinational companies, operating in Vietnam and neighboring regions. This is an opportunity for high-level businessmen to take part in discussions with key policymakers of Vietnam regarding investment prospects and strengthening economic development.
The Ceremony of Business Awards will be held at the conference, in particular, 5 business star prizes and 1 business superstar. In 2008, the Economist Conferences will organize 40 conferences around the world, starting with "Vietnam: Asia's Rising Star." The Conference will end on the ninth of January.