VND 4 billion sponsorship for the construction boarding house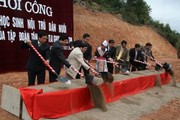 On the morning of 23 January 2008, Mr. Dang Quang Hanh, Vice-President of Tan Tao Investment – Industry Corporation, the representative of ITA-Foundations of Tan Tao Group in coordination with Dien Bien Phu newspaper and leaders of Dien Bien Dong district (Dien Bien province) held a land breaking ceremony in the construction of a boarding house in Dien Bien Dong district, Dien Bien province.
The land breaking ceremony was participated in by a large number of ethnic minority people and students in the region.
The boarding house in central Dien Bien Dong district sponsored by ITA-Foundations For the Future of Tan Tao Group worth VND 4 billion was built on the 3,000 m2 area with 2 floors, and on a 419 m2 construction area including 20 rooms served for the accommodation of 360 ethnic minority students in Dien Bien Dong district. The auxiliary parts include kitchen facilities (178 m2 construction area, metal sheet roof), toilets, and an adjoining campus.
ItaExpress is aware that Dien Bien Dong district is a poor mountainous district of Dien Bien province comprised of a large number of minority people with poor living standards. The Department of Education and Training of Dien Bien province has made concerted efforts to encourage and increase the attendance of children at its schools but given the conditions of this impovrished province it cannot afford to equip schools with the necessary facilities for students. Therefore, when going to schools, students have to stay in temporary, tottering, low and dark tents. After many visits to Dien Bien province and Dien Bien Dong district, and witnessing the life of students here, the Tan Tao Group decided to sponsor VND 4 billion to build a boarding house for the students to lessen their difficulties and better their studying condition.
Mr. Dang Quang Hanh (fourth from left) at the land breaking ceremony