ITA Stocks – Remain stable against downturn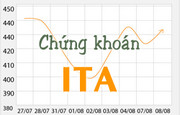 ItaExpress - ITA is one of the most stable shares which is not affected by the dramatic fall in Ho Chi Minh City Securities Trade Centre (HoSTC).
Last week, HoSTC officially applied the real-time order matching. Local investors are suspicious of this scheme and consequently trading became markedly more cautious. 1/8/07 was the only day that the VNIndex increased whilst during the rest of the week the market fell continuously and ended at 892.88 points on the last day.
VNIndex is under the 900 points mark, which results in the declining of "big shares" in the market. Most of the "blue chips" faced a falling week, which brings the market price to an ideal price for investors. However, investors still worry of the continuously fall.
ITA is one of the rare shares in the market that has stayed steadfast in the all-consuming hurricane. Within the last 5 days of the week, ITA always closes at 127.000 VND/share. ITA retained a total volume of 306.920 shares with the total value of 38.688.610.000 VND.
There were 340.420 shares bought whilst 461.500 were sold. Therefore, it was impossible to stay away completely from the major downward trend of the market and the worries of investors. As a result the sell order of ITA exceeded the buy order by 121.080.
In the first trade of the week, VNIndex lost 14.92 point. The sell order of ITA was over 28.000 shares, which almost doubled the buy order. However, in the following drop of the VNIndex, foreign investors dramatically increased the buy order. By 31/7, the buy volume was over 78,000 shares, approximately 8 times higher than the previous day and totaling about 97% of ITA traded volume.
On the next days, the buying volume from foreign investors remained much higher than those of sales. On the last day of the week, within the foreign investors' order, the buying was 85 times higher than the selling and accounted for 86% of total ITA traded volume.
This is a notice to local investors and hopefully a lesson to be learnt from.
Here follow the details of the buying and selling volume of ITA in the period 30/7 – 3/8
| | | |
| --- | --- | --- |
| Day | Buy KL | Sell KL  |
| 30/7/07 | 10.110 | 28.070 |
| 31/07/07 | 78.350 | 38.660 |
| 01/08/07 | 32.520 | 11.360 |
| 02/08/07 | 47.230 | 12.170 |
| 03/08/07 | 42.560 | 500 |
By: Thuong Nguyen
Translator: Ngoc Tran