ITACO approved as main investor for infrastructure construction and business of Pho Phong Industrial – Residential and Service Complex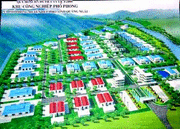 The Chairman of the People 's Committee of Quang Ngai province has approved the Tan Tao Investment & Industry Corporation (ITACO) of undertaking the project of the infrastructure construction and business for Pho Phong Industrial – Residential and Service Complex in Duc Pho district.
The project is projected to cover an area of 300 hectares with a total investment capital of VND 717 billion and to be implemented within 38 months (2009-2012)
Its investment target is to build up the technical and social infrastructure as planned for the effective exploitation of the project and to carry out investment, development, construction and business activities for the Residential Area and social amenities composed of houses, apartments, offices, restaurants, hotels, commercial centers…etc. Additionally, upon completion, the Industrial-Residential and Service Complex will vehemently promote urbanization, industrialization, and tourism and service development in Duc Pho district as well as in the southern part of Quang Nam province.