Tan Tao Group in Dialogue with the Ministries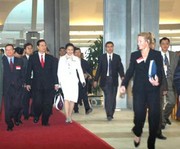 On January 8, 2008, leaders of the Tan Tao Group and hundreds of large economic groups in Vietnam and worldwide began a direct dialogue with different Vietnamese ministries on economic issues currently facing Vietnam. The conference was entitled "Vietnam - Asia's Rising Star."
Leaders of the government, including representatives of the Ministry of Investment and Planning, the Ministry of Commerce and Industry, Ministry of Labor, War Invalids and Social Affairs and Ministry of Culture, Sports and Tourism, participated in the direct dialog. The Conference represents a good opportunity for Vietnamese entrepreneurs to get in touch with the world's leading businesses, promote their trademarks and raise the country's status in the world arena. Concurrently, this is a good occasion for foreign enterprises to form a deeper understanding of the business environment in Vietnam, which should help to gain and cement the confidence of fthe oreign business community in order to carry on long-term and effective business in Vietnam.
On the inauguration day of January 8, Vietnamese Prime Minister Nguyen Tan Dung attended and held a direct dialogue with the international business community on related issues concerning the economic development policies of Vietnam. The Prime Minister underlined the continuously growing aspect of Vietnam's economic development over the last several years. Vietnam has a dynamic market economy with numerous prospects for development, constantly drawing great attention from foreign investors. In order to ensure priorities on the path to development, the Prime Minister and the Vietnam Government always encourages foreign enterprises to make investments in infrastructure, particularly in the transportation system, electricity, telecommunication etc.
Photos of the Conference:
The Prime Minister Nguyen Tan Dung (second from left) and
Mrs. Dang Thi Hoang Yen, Chairwoman of the Management Board
of Tan Tao Group (third from left), attended the conference.
Mrs. Dang Thi Hoang Yen (first on left) at Conference.