Tan Tao Group Receives Business Superstar Award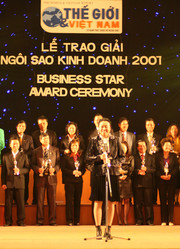 On an evening in January, at the National Convention Center, the Business Star Awards Ceremony was held for 37 enterprises, in which Tan Tao Group and Vietnam Gas and Petrol Corporation were given Business Superstar Awards.
At the Conference, the Organizing Board awarded 10 Stars for the largest scale, 10 Stars for effective integration, 10 Stars for the best management, and five Business Stars. The "Business Star" Awards program aims to encourage and motivate Vietnam businesses to improve international competitiveness as well as increase the rate of building and developing trademarks in accordance with international standards, thus strengthening and enhancing competitiveness in the nation's economic integration efforts.
The Awards Ceremony was part of the "Vietnam - Asia's Rising Star" Conference in conjunction with the Business Roundtable and the Government of Vietnam.
Several photos of the Awards Ceremony follow.
Ms. Dang Thi Hoang Yen, Chairperson of the Management Board of Tan Tao Group,
receives the Business Super Star.
Representatives of enterprises receive Business Stars.