Tan Tao Group signs OE consultancy agreement for Nam Du deep water seaport project with Royal Haskoning VietNam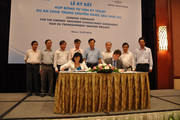 10am, July 10, 2010 - The Signing Ceremony of Owner's Engineer Consultancy Agreement for the Nam Du Deep Water Seaport Project between Tan Tao Group and Royal Haskoning Vietnam Ltd. (RHV) was solemnly organized at Sofitel Plaza, Hanoi.
At the ceremony, Mdm. Dang Thi Hoang Yen, Chairwoman of Tan Tao Group, on the investor's side and Mr. Martijn Coopman, Ports and Maritime Director of RHV, on the consultant's side delivered a speech and signed the agreement. The event also welcomed the presence of senior officials from Government Office, Ministry of Industry and Trade, Ministry of Transport, Ministry of Planning and Investment, Ministry of Justice, Vietnam Maritime Administration, etc. and high level leaders of Kien Giang Province.
Nam Du Island, located in Kien Giang Province, is only 60 km far from Kien Luong Power Complex (KLPC) and has favorable natural conditions for deep seaport construction. These factors make it an ideal location for a coal seaport serving KLPC and other power plants in Mekong Delta Area. Nam Du Deep Water Seaport Project with the estimated investment of 800 million USD is divided into two phases: Phase 1 (2010-2013) with the throughput capacity of 12MT (coal) and 5MT (other cargoes), receiving ships of up to 80,000DWT; Phase 2 (2014-2020) with the throughput capacity of 50MT (coal) and 12MT (other cargoes), receiving ships of up to 150,000-200,000DWT. Nam Du Deep Water Seaport will make a major contribution to the development of the whole Mekong Delta Area by supporting the export of rice, seafood and aquaculture products and the import of coal, raw materials, equipment, fertilizer, etc., reducing transport cost and product price as well as motivating competitiveness. In long term, Nam Du Deep Water Seaport will be the future gateway to ASEAN countries of Vietnam, supporting the development and integration of ASEAN countries as well.
RHV is part of Royal Haskoning, a leading, independent engineering consultant group from the Netherlands, founded in 1881. Royal Haskoning has been operating in South East Asia for 40 years and is recognized as one of the most prominent leading consultants in construction in Vietnam with a unique track record of successful large-scale projects. For this reason, Tan Tao Group decided to select RHV as the OE for this significant project. RHV will help the project owner prepare EPC tender documents, manage bidding selection and evaluation process, optimize port planning and take charge of construction management and site supervision till commercial operation of the port.
Press Contact: Mr. Nguyen Van Tau, Chief of Hanoi Representative Office of Tan Tao Group
Add: 5th Floor, No. 273 Kim Ma St., Ba Dinh Dist., Hanoi, Vietnam
Tel: (84.4) 3 7756 792 – 3 7759 053