To soon commence Kien Luong Thermal Power Project: Speed up GGU and PPA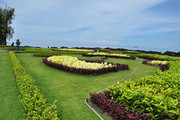 Kien Luong Thermal Power Complex Project, a national key project, has been attracting special public attention. Investment Newspaper's reporter conducted an interview with Ms. Dang Thi Hoang Yen, Chairwoman of Tan Tao Group (ITACO) on the implementation of this project.
Madam, why, not having commencement directive issued yet, ITACO has spent nearly VND 2,000 billion for Kien Luong Thermal Power Complex Project? What work have this amount been spent for?
If stepping on the reclamation area of the Project, surely like other people, you would be very astonished and ask a question: "Why are there a helicopter parking lot and a beautiful and dazzling flower garden in the immense sea with sprawling rock and soil?"
The flower garden is about 1.5 km offshore and every day tank trucks have to ride 24 km away to get fresh water for watering and irrigation; the garden technicians employed here come from Ho Chi Minh City too. It is not simple to have a 2,000 square meters garden of flowers and green plants in the middle of immense sea. Nevertheless, right after backfilling and reclamation in preparation for Kien Luong 1 Thermal Power Plant, I have decided to build a garden of flowers and green plants.
What is the reason for building such a flower garden?
Firstly, I want to build a cultural tradition for the Group so that each staff and employee should be aware that "We have the responsibility to change people's thinking of thermal power plants. Therefore, Kien Luong Power Complex is a symbol of a green, clean, beautiful, friendly environmental thermal power plant".
Secondly, flower garden and green plants prove our faith, strength, power and will in the determination of successfully building Kien Luong Thermal Power Plant.
ITACO is the first non-state enterprise approved by the Government for investment of a power project in the Build-Own-Operate (BOO) form and having the Government credit guarantee. Thus, we are putting all efforts and energy on Kien Luong Thermal Power Complex Project with the determination: as a result of the success of this project, all economic sectors in the country will possibly contribute to construction of many additional power plants, supplementing more sources to the severe energy's shortage in Vietnam.
We have pledged to the Government to successfully execute the Project. That is an answer to the question from many people why, even there hasn't been an official commencement directive of the Government, ITACO has poured nearly VND 2,000 billion... into the sea (!?).
Do you think that work is hasty?
Time is not waiting for us! To ensure the power plant to operate in 2014 according to the schedule set by the Government, we must complete the entire plant layout latest in December 2010.
The process should be clear as follows: The project will officially commence only after completing all procedures of Government guarantee and undertakings (GGU) and Power Purchase Agreement (PPA). Nevertheless, the time waiting for the procedures to be completed is a waste of time needed for (important) tasks of the project to perform including site clearance, dredging, sea reclamation for construction layout, etc...
We have to dredge, backfill about 48 million cubic meters of rock, raise the sea reclamation elevation from -3m and -14m to +3.27m. Backfilling materials must meet technical standards, such as sand grains required to be no less than 1.2mm in diameter. Thus, since September 2009, we have invested VND 2,000 billion for dredging and reclamation for the plant layout. Despite difficulty in getting backfilling materials, ITACO has dredged 5.5 million cubic meters of mud and has backfilled 10 million cubic meters of sand, rock and red gravel and more than 88 hectares of Kien Luong 1 Thermal Power Plant Project (accounting for 70% of backfilling quantity) including 60 hectares of the plant layout, 10 hectares of roads, technical system, electricity system, reservoir, box culverts, helicopter parking, green park and 18 ha resettlement area, office, housing for specialists and workers….
Along with the backfilling, ITACO is promptly building infrastructure and ancillary structures of the plant. The Group has completed construction of roads connecting the national transportation system to the plant and has almost completed the main internal road of about 5km. Electricity supply and water supply system have also reached the plant fence.
ITACO has dredged 5.5 million cubic meters of mud and has backfilled 10 million cubic meters
of sand, rock and red gravel for the plant layout
As you have just said, one of the conditions for investment of the plant is the electricity price negotiation with the Electricity of Vietnam (EVN)? How far has this work progressed?
This is a very large project and it will significantly contribute to resolve the current power shortage. Thus, the State has created favorable conditions for many mechanisms and policies including electricity price negotiation. We has received positive support of the Ministry of Industry and Trade, EVN and associated parties. Specifically, to date, the basic terms of the Power Purchase Agreement have been achieved via negotiation.
Can you let us know the specific time for commencement of Kien Luong 1 Thermal Power Plant?
As I said above, the project can only commence after completing three major work of the layout, GGU and PPA. We are determined to complete the backfilling in December 2010. Regarding GGU, we have undertaken many rounds of negotiation with the Ministry of Trade and Industry, Ministry of Finance, Ministry of Justice, Ministry of Planning and Investment, State Bank and EVN. In July 2010, the Ministry of Industry and Trade submitted to the Prime Minister the GGU terms for Kien Luong Thermal Power Project for similar adoption of the GGUs granted to foreign investors of Phu My 3 and Mong Duong power projects.
Regarding negotiation of electricity price, Tan Tao Energy Corporation is promptly negotiating with the Electric Power Trading Company with the guidance and support of EVN. I believe that with the support of the Government, ministries and relevant agencies such as Kien Giang authority, the project will certainly be completed on schedule by 2014 to ensure Kien Luong 1 to officially start generation into the national grid, contributing significantly to resolve the power shortage, especially in the Southern region.
There are several opinions that ITACO is experiencing difficulties in mobilizing financial resources for Kien Luong Thermal Power Project. So, what is the real issue, madam?
ITACO is the leading corporation in investment of technical infrastructure and industrial parks and attraction of investment in Vietnam over the past 15 years, and at the same time has awarded AAA credit rating. Almost over the past 15 years of operation, its debt to total assets ratio is only approximately 20%. With such strong financial health, along with the prestige and experience of one of leading investment groups in Vietnam, we have many competitive edges in attracting capital, and moreover, Kien Luong Thermal Power Project is in the Master Plan VI.
This is the first project to be implemented in the BOO form and it has obtained the Government's in-principle approval of loan guarantee principle. According to the proposal of the Ministry of Finance, Kien Luong 1 is a power source investment project in the National Electricity Development Master Plan VI for the period 2006-2015 with a vision toward 2025, it will adopt Article 3 of the Prime Minister's Decision No. 110/2007/QD-TTg dated July 18, 2007 regulating that power source projects and transmission lines interconnected to the national electricity system for the period 2006-2015 invested by domestic companies shall comply with the Prime Minister's Decision No. 1195/QD-TTg dated November 9, 2005.
On that basis, in Official Letter No. 5040/VPCP-KTTH dated July 27, 2009, the Prime Minister approved in principle the issue of the Government guarantee for Kien Luong 1 Thermal Power Project.
We, along with 15 renowned international and domestic consultants, have been working with large banks of international credit insurance institutions and Sinosure (China) on loans for the project. ITACO has received active commitments from the banks; especially, Sinosure had issued in-principle agreement document on August 24, 2010 on principles of loan insurance for the Project. It will only be taken into official consideration after GGU and PPA have been achieved.
We are awaiting for the Government's approval on guarantee and commitments in Statement No. 6829/TTr-BCT on September 07, 2010 of the Ministry of Industry and Trade and Supplementary Document No. 8343/BCT-NL on August 18, 2010, after the guarantee and commitments have been unanimously agreed by the relevant ministries and sectors.
Kien Luong Thermal Power Project attracts a very large capital. So, does the performance of ITACO affect the investment of this project?
Tan Tao Energy Corporation (an independent legal entity to ITACO) executes Kien Luong Thermal Power Complex Project. ITACO currently has its stock listed on the HCM City Stock Exchange (HOSE) and it contributes only 15% of capital to this Project. Therefore, the investment of the Project will not much affect the profit of shareholders of ITACO. In the first 9 months, ITACO's revenue has reached nearly VND 1,000 billion VND. It is expected that dividends and bonus shares will be paid at 50% of charter capital this year.
Trần Bình Nguyên - ĐTCK