Building thermal power plant like a park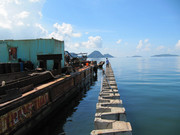 With the desire of changing the conventional views of thermal power plants, Tan Tao Group is determined to develop Kien Luong Thermal Power Plant as a green, clean and beautiful symbol.
Right adjacent to the immense sea, among the sprawling sand, gravel and construction works emerges a gorgeous flower garden along with a helicopter parking lot. The 2000m2 colorful flower garden represents a determination to build an environmental friendly thermal power plant of Tan Tao Group.
Kien Luong Thermal Power Complex is a national key power project in the National Electricity Development Plan VI with the first phase investment of more than USD 2 billion, and with total capacity of 4,400 MW. The Prime Minister has assigned the project to Tan Tao for investment. The plant covers 265 hectares in Kien Luong district, Kien Giang province.
As the investment owner of Kien Luong Thermal Power Project, Tan Tao Group is aware of the responsibility to change the conventional views of thermal power plants, transforming Kien Luong thermal power complex into an environmental friendly symbol. Therefore, right after the reclamation in preparation for the plant layout, a garden of flowers and green plants is the first to be built. The flower garden green also proves the faith, strength and will of staff and employees of the Group in the determination to successfully build Kien Luong thermal power plant.
A colorful flower garden stands out right in the sea among construction works
Kien Luong Thermal Power Project reaches out four miles to the shore. For construction the plant, tens of millions cubic meters of seabed mud have to be dredged and millions cubic meters of standard soil and sand are required for the layout backfilling.
To date, 5.5 million cubic meters of mud have been dredged and nearly 10 million cubic meters of sand and red gravel have been backfilled for over 88ha of Kien Luong 1 Thermal Power Plant (70% of backfilling quantity), including 60 hectares of the plant layout, 10 hectares for roads, technical systems, electricity systems, reservoirs, box culverts, helicopter parking lot, green park and 18ha resettlement residential, office, housing for experts and workers.