Chairwoman Dang Thi Hoang Yen honored with Outstanding Leader in Ho Chi Minh Era Award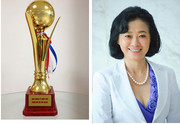 On April 24, 2014, the "Outstanding Leaders in Ho Chi Minh Era" award ceremony under the direction and sponsorship of the Central Popularization Committee, Vietnam Television Communication Services Corporation, Hoang Gia Communication and Investment Corporation was held at the Hanoi Opera House. Mme. Dang Thi Hoang Yen, Chairwoman of Tan Tao University and Tan Tao Group was presented "Outstanding Leader in Ho Chi Minh Era " Award.
The Outstanding Leader in Ho Chi Minh Era Award is granted following thorough evaluation of the Organizing Board to acknowledge and honor the success of businesses, outstanding leaders in the process of integration and development of the country.
Tan Tao Group founded by Mme. Dang Thi Hoang Yen has grown into the leading Industrial Park & Infrastructure Developer in Vietnam. The Group has developed large industrial parks such as Tan Tao Industrial Park, Tan Duc-Ecity Industrial Complex… and has created hundreds of thousands jobs across Vietnam and plays a great role in attracting foreign investments in Vietnam, transforming uncultivated land into the top economic growth area of Vietnam.
Mme. Yen is also Founding President of Tan Tao University which was established in 2007 and is the first non-profit private US-Style university in Vietnam in accordance with the U.S. accreditation standards. Mme. Dang Thi Hoang Yen has funded over VND 2,800 billion for Tan Tao University over past 10 years. With the aspiration of building a quality research university, she has granted full scholarships to talented but poor students and funded for faculty research. Despite newly established, Tan Tao University and its faculty have created 58 scientific studies published in the world's renowned research journals . At present, Tan Tao University is the first and sole Vietnamese private university which is licensed to offer Medicine and Biotechnology programs.
In addition, Mme. Dang Thi Hoang Yen is also the founder and sponsor of quality hygiene rice production project in line with the Global GAP standards for three years. The project provides funding, high-yield and quality rice seeds and hires foreign consultants and professionals to instruct farmers to follow Global GAP hygiene rice production procedures. The program has raised yield and nutritional quality of rice by 40 % and has helped farmers in the project area to increase their income from 20-30 % . This model is presently highly evaluated by domestic and foreign professionals and consumers and continues to expand in Long An Province and is expected to quickly be applied nationwide .
The Hoa Trang Nguyen Award initiated and funded by Mme. Dang Thi Hoang Yen (worth nearly 20 billion ) has granted more than 8000 scholarships to top scorers of university entrance exams and outstanding students since 2008. Hoa Trang Nguyen Award is one of the prestigious and respected awards which all students nationwide aspire to win.
Through 20 years, Mme. Dang Thi Hoang Yen has actively engaged in charity activities including building of thousands of charity houses, rural bridges, providing free health care checks to 4800 women and elderly people, funding Hepatitis B vaccination for 17,500 children ...
Mme. Yen Dang has been awarded with numerous significant prizes and merits such as: Humanitarian Award 2011 by San Francisco - Ho Chi Minh City Sister City Committee, Golden Rose Award, Typical Entrepreneur Award, Business Super Star Awards, Prime Minister Certificate of Merit, Long An Province People Committee's Certificates of Merit, Ho Chi Minh City People Committee's Certificate of Merit, Outstanding Vietnamese Intellectual Award for achievements on socio-economic fronts 2013, Top 100 Managers 2014.
ItaExpress