Tan Tao Group signs a MOU with BIDV Western Sai gon Branch to provide loans to help workers buy Tan Tao Plaza's apartments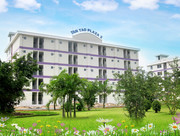 On August 6, 2013, the BIDV-Western - Saigon Branch entered into a memorandum of understanding with Tan Tao Group to give loans to workers for buying Tan Tao Plaza 2, 3's apartments developed by Tan Tao Group.
Accordingly, BIDV has agreed to provide preferential loans sourced from VND 30,000 billion support package of the Vietnam State Bank to workers for buying Tan Tao Plaza 2, 3 's apartments situated in B11/33C1, Tran Dai Nghia, Tan Kien Commune, Binh Chanh District, Ho Chi Minh City according to the Circular No. 11/2013/TT-NHNN dated May 15, 2013. Besides, BIDV has also agreed in principle to fund housing construction for workers in Tan Tao Industrial Park on condition that ITA meets borrowing requirements according to the BIDV regulations.