EDF group and Samsung C&T want to jointly invest in Kien Luong 1 thermal power project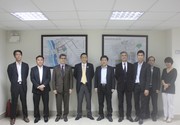 On March 20, 2014, following the meeting with Chief Operating Officer of Tan Tao Group, representatives of the EDF Group (EDF) and Samsung C&T Corporation had a meeting with Mr. Dao Hung Tien, Vice-President of Tan Tao Energy Corporation to discuss investment and cooperation opportunities in development of the Kien Luong 1 Thermal Power Plant Project.
During the meeting, the parties discussed about the percentage of foreign investors ownership in the Kien Luong 1 Project. On the side of Tan Tao Energy Corporation (TEC), Mr. Tien said: "We are totally open to discuss the share percentage and willing to let a strong consortium to hold the majority stake if the consortium has adequate capacity to implement the Project. For our promise to the Government, we make our mission to complete the Project in line with the schedule. Therefore, if a decline in our ownership percentage makes the Project successful completed, we also accept it".
Both Samsung C&T and EDF asserted they want to invest in the Project, contributing advanced technology, machinery and equipments to provide add-on value to the Project. They also want to carry out EPC works, O&M, coal supply and financing for the Project. The EDF group is a large electric utility company with vast experience in investment, management and operation of power plants in the Asia and in the world. In Vietnam, the EDF is operating the Phu My 2.2 power plant very successfully.
Samsung C&T Corporation, established in 1938, is the original company of the Samsung Group. The Samsung Group is South Korea's largest conglomerate with interests in construction, electronics, chemicals, finance and numerous other fields. In recent years, Samsung C&T has strongly invested in power sector including thermal power plants with a total capacity of over 18,000 MW.
After obtaining approval from the Government regarding the change of investment form of the Kien Luong 1 power plant project into Build – Transfer – Operate (BOT), Tan Tao Group has promptly created a plan to deploy the project and called for strategic partners to invest and develop the project.