Tan Tao continues to deploy thermal power project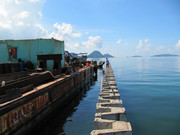 Tan Tao Energy Corporation has received approval from the Ministry of Industry and Trade (MOIT) to transfer its huge thermal power project in Kien Giang Province from a build-own-operate model to a build-operate-transfer project, a move that will help the company get the Government to guarantee the project.
By December 31, if the company failed to change the business model, the MOIT would consider choosing other investors. Kien Luong power complex project has been assigned to TEC as investment owner of the project since 2008. TEC affirms that they don't want to delay the project as it has invested USD 240 million for land filling for the first phase and construction of auxiliary works. The delay was caused by the difficulties of negotiation of Government Guarantee and Undertaking (GGU) and Power Purchase Agreement (PPA) with EVN.
"TEC had once petitioned for a Government guarantee for the project, but failed as the project was being developed under a build-own-operate model. In order to be guaranteed, TEC will have to convert the project into Build-Own-Transfer (BOT) scheme"- Vice-Chairman of Kien Giang People's Committee Pham Vu Hong said.
Concerning the decision of the General Energy Department, TEC's President affirms the company has received this document and will continue to deploy the project after BOT conversion. After TEC has selected its partner, it will recalculate tariff and continue to conduct PPA negotiation with EVN.