Conference on announcement of master plan on socio-economic development of Long An Province through 2020, with a vision to 2030 and investment promotion in 2013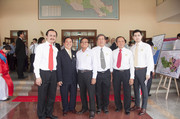 On 16 April, 2013, Long An Province People's Committee held a conference to announce the master plan on socio-economic development through 2020, with a vision to 2030 and investment promotion in 2013, with the theme "Quick procedures - safe business - effective investment - sustainable development." Leaders of Tan Duc Industrial Park also attended the meeting along the information to introduce E.City, Tan Tao University, ITARICE and AICA, a client in the industrial park.
The conference had the attendance of Vice-Prime Minister Vu Van Ninh, leaders of ministries and central departments, provincial leaders in the southern key economic and the Mekong Delta, representatives of several general consulates in Ho Chi Minh City. Attending the conference were Long An Province's leaders, including Secretary of the province Mai Van Chinh, Deputy Secretary – Chairman of the province Do Huu Lam, Chairman of the Provincial Council Dang Van Xuong, members of the Provincial Standing Committee, members of the People's Committee and leaders of departments, agencies, unions and more than 400 domestic and foreign investors.
Speaking at the conference, Deputy Secretary and Chairman Do Huu Lam said in 2012 Long An Province achieved economic growth rate of 10.5%, 2.7 million tons of food products, per capita income of US$ 1800, food output of 2.7 million tons, industrial production value of over 82 trillion dong, exports of nearly US$ 2.4 billion, and budget collection of more than 5,600 billion dong. To date, the province has attracted 461 foreign investment projects with a total registered capital of US$ 2,976 million from Taiwan, South Korea, Thailand, Japan, Singapore, France, taking the lead in foreign investment attraction among the Mekong Delta provinces. In addition, the province has 498 domestic investment projects with a total registered capital of nearly 73,573.5 billion dong and around 5000 domestic businesses in operation. The province has 30 industrial parks and 40 industrial complexes with a planning area of 15,139 ha. Among them are 16 operational industrial parks with 42.9% occupancy rate, 9 operational industrial complexes with 79.4% occupancy rate. Currently there are more than 5000 hectares of cleared land capable of receiving the investment project.
Long An Province's economic structure quickly shifts from agriculture-industry-service towards industry-agriculture-service along with many achievements but it still has not unleashed its full potentials and strengths. One of the reasons is because there is no master plan on socio-economic development, resulting in difference, limitation and spontaneity in development strategy.
Therefore, according to the Almec Japanese planning consultant, Long An will build a sustainable development strategy on the basis of dividing the province into 3 regions with 3 separate functions, ensuring rapid growth through industrial development, ensuring agricultural development and ecological environmental protection. In addition, the plan also provides priority projects with full potentials. Upon being completed, it will create highlight and momentum for development of the province such as green and quality industrial park development project, high quality waste processing capability; good warehousing and logistics center project in the Dong Thap Muoi area, high quality international health center project, development project connecting Tan An - Ben Luc towns, high-tech agricultural production development project...
Speaking at the meeting, Deputy Prime Minister Vu Van Ninh praised efforts and endeavors, achievements and positive contributions of the provincial party committee, authority and people in Long An province and achievements of the country. The Deputy Prime Minister stressed that for contributing to successful implementation of the critical goals and missions, it is necessary to build Long An Province to become an stronger and industrial province before 2020, an attractive destination for investors. Long An Province needs to actively cooperates closely with other ministries, agencies and localities, business community and investors for review and evaluation of investment attraction, proposal of amendments and perfection of appropriate mechanisms and policies for the highest mobilization of resources, improvement of investment environment, seeking support of donors, local and foreign investors;
Long An Province needs to develop a five-year and yearly plans for implementation of the plan approved by the Prime Minister, ensuring land use planning, sectoral planning, major national and provincial products planning, district-level socio-economic planning in compliance with the master plan. Periodically, it is required to review and adjust the plan to meet the practical condition. Focusing on drawing high-value, advanced technology investment projects in the fields which are main advantages and primary momentum for socio-economic development of the province; Long An needs to have specific measures to mobilize domestic and foreign resources, together with the ministries to focus on investment and development of synchronous and modern infrastructure, giving priority to strategic projects connecting the southern key economic region and the Mekong Delta; at the same time, focusing on development of quality and skilled human resource, encouraging application of scientific and technological advances, innovation and transfer of environmentally friendly technologies. Promotion of administrative reform, prompt resolution of difficulties and problems of businesses, investors, creating open and favorable investment environment, promoting regional and national cooperation and connection and effective exploitation of potentials and advantages of the province.