Building GlobalGAP fragrant rice brand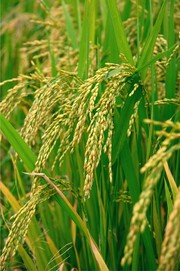 Tan Tao Group is investing in building ITA-Rice fragrant rice brand for export in accordance with the GlobalGAP standards, Dr. Vo Tong Xuan, Vietnam's top rice expert, said.
In the last winter-spring crop, Dr. Vo Tong Xuan collaborated with ITA-Rice fragrant rice investment research and export corporation and 60 farmer households to start a GrobalGAP standard rice growing experiment on the 60.3 ha area in My Thanh Dong commune, Duc Hue district, Long An province.
The crop has a yield of 6 tons to 8 tons per hectare. The entire rice production has been procured by ITA Rice Company at the price of 5,500 dong per kg paddy rice, which is 1,500 dong more than the market price. Dr. Xuan said the model rice production field would be replicated to 80 hectares in the summer autumn crop.
ItaExpress