Ben Luc Delegation visited Global G.A.P rice fields in Duc Hue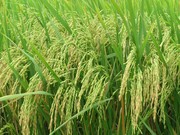 July 31th, Ben Luc delegation including leader of agriculture sector, People Committee, associations and farmers; Duc Hue agriculture sector, Duc Hue representative farmers who join in Global G.A.P project; ITA RICE's leader and staff visited rice fields which are applied Global G.A.P in My Thanh Dong, Duc Hue.
The purpose of the visit is learning G.A.P model which is implemented successfully in Duc Hue; encouraging Ben Luc farmers to join in G.A.P project. In the second year, G.A.P model is broaden with more farmers joining in. In Summer Autumn crop, 75 farmer's households in Ben Luc accepted to take part in G.A.P project with total area: 45 hectares at the beginning. As the result, total rice area in both Duc Hue and Ben Luc is up to 105.3 hectares with 138 farmer's households. Large scale and more farmers will challenge ITA RICE much more but more farmers can improve their life's quality.
In the last crop, thank to Global G.A.P project in Duc Hue, total production was 400 tones, average production was 7.5tonnes/hectares as estimation (63 households joined in; total area was 60,3hectares; in some fields, the average production was 8.5tonnes/hectares). In the second year, ITA RICE gained a lot of experience from the last crop. In addition, farmers believed in Global G.A.P procject's success. Global G.A.P Rice fields ensure stable income for farmers, protecting environment, good Vietnamese rice trade mark.