Signing ceremony of Charter on coordination of maintaining political security, social safety and order in Tan Tao IP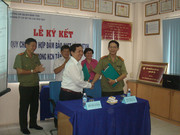 On June 15, the signing ceremony of Charter on coordination of maintaining political security, social order and safety in Tan Tao Industrial Park was organized at the Tan Tao Group's office. The ceremony were attended by Mr. Trinh Hong Son, Deputy Head of the Ho Chi Minh City Police Department PA 84, Ms. Le Thi Ngoc Lien from the HCM Export –Industrial Parks Processing Zones Association, Mr. Le Cong Van, Deputy Head of Binh Tan District's Police Department, Mr. Nguyen Van Chinh, Chairman of Tan Tao A Ward. On behalf of Tan Tao Group, Mr. Thai Van Men, Chief Operating Officer, representing the businesses operating in Tan Tao IP attended the ceremony.
To date, Tan Tao IP has attracted 267 investors with 249 factories put into operation in various fields of textiles, garments, footwear, paper, packaging, wood products, chemical manufacturing, cosmetics, aquatic product, seafood….Ensuring safety for the businesses in Tan Tao IP is constantly the foremost concern of the Group's executives. Thus, fire safety checks have been regularly carried out through the year, specifically five fire safety checks were performed for 950 enterprises. The IP's fire fighting and prevention has frequently received support of Binh Tan District's fire fighting - prevention department and the HEPZA. Thus, following the fire safety checks in the industrial park carried out by the 13th term National Assembly deputy delegation, fire fighting -prevention departments and HEPZA…The fire brigade has constantly received good assessments on its fire fighting and prevention measures, with the availability of facilities and on-duty personnel.
From the signing ceremony, the maintaining of political security in the Industrial Park will be properly and closely carried out to minimize fires, thefts, strikes in the Industrial Park. It aims to timely detect violations in the Industrial Park, to honor and award individuals and organizations with significant contributions to the local security and to maintain a friendly working environment and to build confidence for investors and employees.
ItaExpress