Director of Tan Tao hospital's IVF center visits Japan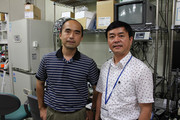 Dr. Nguyen Van Thuan, Director of Tan Tao Hospital's IVF Center, Chairman of Asian Reproductive Biotechnology Society made a visit to Japan's IVF Center. During the meeting, Dr. Nguyen Van Thuan reached an agreement with Prof. Yoshiharu Morimoto, Chief Executive Officer and Chairman of JVP JAPAN group on comprehensive cooperation with Tan Tao Hospital's IVF Center.
Particularly during the working session, Prof. Yoshiharu Morimoto agreed to provide best support to Tan Tao University during the period of establishment of the Medical School and to become an advisor of Tan Tao University's Medical School. It will lay solid foundation for bringing and promoting medical knowledge and advancements from developed countries such as Korea and Japan to Tan Tao University – a place to nurture and educate Vietnamese talents for non-profit purposes. The cooperation program is expected to be carried out in late 2012.
Also during this visit, Prof. Nguyen Van Thuan was also invited to attend the 10th anniversary of the Genomic Reprogramming Laboratory in Kobe prefecture, Japan. It is a renowned genome research center in Japan and in the world established and headed by Ph.D. Teruhiko Wakayama.