Fire Protection Police Department and Hepza implementing fire safety program at Tan Tao Industrial Park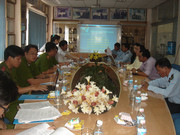 On July 17, 2012, a meeting on the examination of fire prevention and protection within Tan Tao Industrial Park took place at Tan Tao Group Office. At the meeting, Hochiminh City's Fire Protection Police Department and Tan Tao Group's management made a periodical review on fire prevention and protection work within the area and proposed optimal measures for more effective and safer work at the industrial park.
The Fire Protection and Security Team organizes annual training program for its members, including practice tests of fire protection and rescue for companies within the area. The Group's Board of Directors encourages and closely supervises fire protection work. The team members have been making every effort to accomplish their assigned task, minimizing the loss that companies may suffer due to fire accidents and supporting households and companies outside the park in fire protection and prevention.
At the meeting, Mr. Thai Van Men, COO of the Group, has received directions from the Fire Protection Police Department and Hepza about implementing effective and quick fire protection work. Accordingly, this year the Group will invest one more specialized fire truck, promote fire propagation to businesses to raise their awareness and responsibility in the area as well as to improve professional skill for the Fire Protection and Security Team through the support from Fire Protection Police Department, Hepza and the locality.
ItaExpress