Deutsche Bank seeks for investments in Tan Tao Group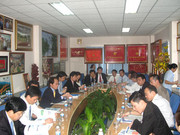 February 21. Representatives of Tan Tao Group had a working session with Vietnam Deutsche Bank who are currently searching for investment opportunities in Tan Tao Group.
At the meeting, Vice Chairwoman of the Management Board Mrs. Le Luu Huyen Thanh and Vice Head of Department of Business and Marketing Mr. Dinh Thai Quang Vinh presented an overview of Tan Tao Group and its current large projects as well as its future projects. In both its existing and future projects Tan Tao Group is eager to cooperate with domestic and foreign investors who can provide sustainable development and mutual benefits.
Through this introduction and visits to the site of Tan Tao Industrial Park, Tan Duc Industrial Park, Mr. Hiep Vo, representative of Deutsche Bank in Hanoi and its members have a great regard for Tan Tao Group's projects and the economic potential of Tan Tao Group and expect future cooperation.
Deutsche Bank's headquarters is in Frankfurt, Germany. Its Vietnam branch started to operate in 1992 and now has over 100 employees.