ITA Group's Chairwoman attends Economic Opportunities for Women in Asia-Pacific Conference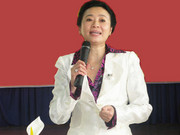 From February 13-15th, Mrs. Dang Thi Hoang Yen, Chairwoman of ITA Group was present at the Economic Opportunities for Women in Asia-Pacific Conference (EOWAP) which took place at the Singapore Management University.
The Conference focused on business opportunities for women in Asia-Pacific region, seeking solutions to novel challenges as well as delivering honors and awards to successful businesswomen.
At the conference, women leaders engaged in dynamic discussions on key issues regarding economic growth and opportunities for women in the region. Also, they shared valuable experiences in overcoming obstacles and challenges to reach the pinnacles of success.
Three important targets that EOWAP is expected to accomplish will be to inspire participants through typical business situations from all over the region; to assist participating members to continue to pursuit their visions through leadership and management skills; and to develop their visions through debating topics and interactive dialogues.
Regarded as one of the most successful Vietnamese businesswomen, Chairwoman of ITA Group – Mrs Dang Thi Hoang Yen, as an outstanding representative of Vietnamese women, shared her successful story and gave the introduction of ITA Group to delegates from Asian Pacific countries.
For 12 years of development, ITA Group (Itaco) has become a trustworthy companion of domestic and international investors. Itaco's stock, ITA, was officially listed on the Hochiminh City Stock Exchange in 2007 and shortly then, become a blue-chip stock in Vietnam securities market.
Until the end of 2008, ITA Group has developed 9 industrial parks across the country along with construction projects of E.City urban zones, American standard Tan Tao University, Kien Luong thermal power plant – the largest in Vietnam, high-rise buildings and Vina Universal film studio.
In addition, ITA Group has received many prestigious awards from the Vietnamese Government. With good financial achievements and earnings growth achieved, ITA Group is selected as one of 10 leading enterprises and included in the S&P Vietnam 10 Index and is preparing for IPO in foreign stock market.
ITA Group has set its development goal to become a strong economic group in Vietnam and in the region. During her address at the conference, Chairwoman of ITA Group Dang Thi Hoang Yen disclosed her view: "Richness and social responsibilities should always go together"
The conference also introduced a book entitled "Women Entrepreneurs Conducting Business in Southeast Asia" published by World Bank about prominent businesswomen in Singapore.
Translator: Viet Thang