National Assembly Representative Dang Thi Hoang Yen contributes opinions to socio-economic development solutions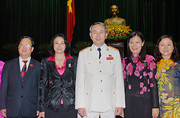 Despite the world's economic crisis over the past years, Vietnam has still attained positive economic growth and prevented the breakdown due to the negative impacts of the global economy. This substantial accomplishment has proved the Government's role in governance and development of the economy to weather the global economic crisis.
The inflation currently poses a serious challenge for the national economy and social security. The Government has issued the credit restriction measures, nevertheless, they haven't demonstrated effectiveness in achieving the stated goals. Concretely: in the first seven months, the credit growth only reached less than 6% while the inflation rate rose nearly 17%. Thus, even if banks don't give any new loans, the inflation rate still remains higher than 10%. The root cause of the soaring inflation needs to be identified to establish effective measures.
In my opinion, the underlying cause of the high inflation rate is attributed to the trade deficit and the national credit rating drop.
1. Trade deficit: The major cause of the soaring inflation:
a. 2010's trade deficit of US$ 13.4 billion, including US$ 12.7 billion from China, which accounts for 94.4% of the total deficit.
b. The first six months of 2011 recorded a trade deficit of US$ 7.4 billion, including US$ 6.6 billion from China, which accounts for 88.4% of the total deficit. The trade deficit with China included nearly US$ 150 million of fruits, food…etc and US$ 1.6 billion of electronics products including US$ 611 million of phones and accessories…etc.
In order to restrict the trade deficit, certain short-term and long-term measures are needed:
- Preliminary measure: I completely agree with the Government's measure for launching and publicizing the program: "Vietnamese people give priority to use Vietnamese goods". Nevertheless, the program needs to be widely publicized with determination such as "Using Vietnamese goods is patriotic" to arouse the patriotism of all Vietnamese people and mobilizing all people to accomplish the goal: Trade Deficit Elimination. At the same time, mobilizing the movement: "Say NO to the conspiracy of turning Vietnam into a consumption place for low quality products and hazardous to the population". To drastically implement the quality and safety inspection of imported food, especially the Chinese products, and to widespread the information over media accompanying draconian measures applied to any violation; this will definitely make impact on prevention of consumption of low quality goods and unsafe foods.
- Long-term measure:
Ø Swift creation of regulations and incentive policies for auxiliary Industrial Parks to serve the production of high-tech products and intellectual products. These measures will reduce the import of accessories, parts and spare parts….and will contribute to increase export capacity.
Ø Honoring domestic producers of high quality products. Tax incentives, rating, awarding via tax reduction or exemption and incentive loans should be provided to encourage manufacturers to improve their designs and develop innovative technologies while respecting environmental protection and enhancing goods quality.
Ø Need to create incentive measures to the enterprises investing in production and processing of agricultural products, food, minerals…to enhance value chain of the goods.
2. CREDIT
It is currently difficult for Vietnam to obtain foreign loans since its credit rating has been downgraded to B3 from B1 by Moody's Investor Service, and to B from BB- by Fitch Ratings, which leads to the following consequences:
Ø We cannot issue bonds into the international market, therefore, we couldn't have used the borrowing tools to promote the development of the country.
Ø The downgrading of the country's credit rating has increased the loan cost 2 to 2.5 times at the international credit organizations. This number is invisible in the investment cost of projects, therefore, it is hardly detectable. Nevertheless, in reality, all these costs are calculated into cost price and total project investment capital and they have finally been borne by people and the country.
Therefore, the necessity to identify measures to improve Vietnam's credit rating is extremely important.
3. TAX POLICY: According to the 2009 statistics of the General Statistics Office, Vietnam's tax collection to GDP ratio is the highest in Asia:
| | |
| --- | --- |
| 1. Vietnam | 20,3% |
| 2. China | 17,7 % |
| 3. Malaysia | 15,7% |
| 4. Korea | 15.5% |
| 5.Thailand | 14.6% |
| 6.Philipines | 12.8% |
| 7.Indonesia | 11.6% |
| 8.India | 7.4% |
At present, only about one-tenth of total 500,000 enterprises have been audited, nevertheless, the recovered tax losses have amounted to more than VND 800 billion.
Despite such large tax losses, the total tax collection in 2010 still showed a strong increase of 21% compared to 2009. It is likely we are adopting too high tax rate. We need to swiftly study and amend the law on business income tax to untie difficulties and enhance our competiveness in the region.
4. BANK
The classification of production, non-production and real estate sectors needs to be re-examined: The State Bank of Vietnam (SBV) categorizes investment of infrastructure and industrial parks into real estate and non-production sectors, thus, those sectors have undergone the credit restriction measures; this classification is imprecise, has constrained the development and caused negative impacts on the manufacturing sector and need to be quickly removed for the following reasons:
a. The infrastructure, industrial park and factory investment sector establish fundamental and prerequisite conditions for development of other industries. Until 2010, 173 operational industrial parks have attracted 8,400 domestic and foreign projects, with a total registered capital of US$ 53.6 billion and more than VND 336,000 billion (about US$ 20 billion). The enterprises operating in industrial parks have contributed US$ 25 billion to the GDP, which accounts for nearly 25% of the 2010 total national output.
b. Until 2010, the industrial parks created about 1.8 million stable jobs and tens of million jobs in the service and auxiliary sectors in the region. For example, Tan Tao Industrial Park was established in 1996 from a saline land area with the population of two hundred thousand people. Nevertheless, only after two years of investment of Tan Tao IP, its population increased to four hundred thousand people. At present, Tan Tao IP has attracted fifty thousand employees and the population within a 1-km radius of Tan Tao IP have amounted to 1.2 million people.
To be reconsidered: the credit tightening applied to industrial park investment and development actually causes the contraction of manufacturing activity and job losses. This is not relevant to the development and stabilization policy of the Government.
5. ENTERPRISES
Over the past years with the renovation of the State and the Party policies, the equality in economic relations between state-owned enterprises and private enterprises have been improved. Particularly, after the Law on state-owned enterprise expired on July 01, 2010, only the Enterprise Law is effective to be adopted for both state-owned and private enterprises. It demonstrates legal equality between state-owned enterprises and private enterprises. Nevertheless, from psychology aspect to consideration, this evaluation is not equal, in reality. The state-owned enterprises still receive too many incentives while private enterprises are not supported and even restricted. The private enterprises and non-state sectors have used capital more effectively and have contributed to the GDP greater than state-owned enterprises, specifically as follows:
· The State economy (including state-owned enterprises, financial sector, banks, etc...) contributes 33.74% to the GDP, creating 5.2 million jobs.
· The non-state economy contributes 47.54% to the GDP, creating 42.2 million jobs, which accounts for 86.1%
· The FDI contributes 18.87% to the GDP, creating 1.7 million jobs.
(Labor force in 2010: 49 million people)
Recommendation: For assurance of equality, competitiveness improvement and economic autonomy, the list of industries and projects RESERVED EXCLUSIVELY FOR State Owned Enterprises needs to be created and submitted to the National Assembly for approval, and then it will be publicized. Accordingly, out of this exclusive list, the equality of loans, guarantees and other incentives… between state-owned enterprises and private enterprises needs to be improved. It will promote transparency and anti-corruption, improve capital utilization effectiveness of state-owned enterprises, and encourage development of all economic sectors for the prosperity of people and country.
FOOD SECURITY, AGRICULTURAL DEVELOPMENT AND SOCIAL SECURITY
Role of agricultural plants
The food security has become a global issue
- Half of the world's population of 6.935 billion people consume rice as their daily staple food item.
- Every year, the ASEAN countries' rice export accounts for 57.16% of the world's total rice export volume of 29 million tons.
- The ASEAN region has supplied rice to 1.9 billion people in the world, accounting for 28% of the world's population. At present, the number of hunger people accounts for 15% of the world's population, or nearly 1 billion people.
- The world has begun to call Vietnam and Thailand 'WORLD'S KITCHEN'. Therefore, the agricultural investment and development ensure its own food security for Vietnam and the world. Therefore, it will enhance Vietnam's position in the world arena. In addition, Vietnam's rice donation to some countries have promoted closer relationship with partner countries and developed allied relationships. It demonstrates significance and necessity of agriculture for development of the economy.
Current state of agricultural sector in Vietnam
· The Party and the State have paid much attention to the agricultural sector with its investment representing 27% of the GDP. Especially, the policies include the exemption of land tax, agricultural tax and assuring farmers' profit margin of 30%...etc. Nevertheless, those policies have just offered modest assistance to farmers.
· Recommendations: Seventy percent of Vietnam's population are farmers, therefore, the country's economy will develop rapidly if there's macroeconomic policy to help farmers to increase their income.
1. We should work with Thailand to discuss the "Food security and farming encouragement". The partnership of two largest rice exporting countries in the world will ensure proper competitiveness, therefore, farmers will have better profits with a reasonable rice price in the international market. The Thai Prime Minister has pledged to assure the purchase of farmers' agricultural products. For this reason, we need to actively initiate discussion with Thailand on food security and provide incentives to farmers to attach to agriculture.
2. Vietnam has attracted international market attention on food security and this is our strong aspect. Therefore, we need to establish the country's development directions through industrialization and agricultural modernization. The focus should be placed on development of plant seeds, crops and farming techniques and practices, including improvement and change of agricultural farming habits and practices to export agricultural products to the US and European markets. Therefore, the realization requires the participation of the Ministry of Agriculture and Rural Development, the Food Corporation and the Food Federation. At present, food companies buy unmilled rice from traders only at harvest time, therefore, the quality of purchased rice is mixed which leads to a very low export price.
3. ESTABLISHING VIETNAM'S RICE BRAND IN THE WORLD: Deployment of rice paddy planting and rice production in accordance with the Global G.A.P certification for export to the high-end markets. Recommendation: The My Thanh Collective organization structure should be adopted with the participation of an enterprise: Supply of plant seeds, technology, fertilizers, pesticides and take-or-pay for products at 15-20% higher than the market price upon buying products. The Enterprise and My Thanh Collective have carried out the pilot program for 3 years for 100 ha of paddy field in compliance with the Global G.A.P certification standards and 500 ha of high quality paddy field with an annual harvest capacity of 15-16 tons per ha and with each crop of 85 days. The Ministry of Agriculture and Rural Development needs to establish the goals : Assigning the Food Corporation to organize and deploy this program annually (For instance: 1000 ha per year) or issuing incentive policies to allow private enterprises to borrow from banks at low interest rate to implement rice production processes according to the Global GAP or Europ GAP standards. If the program is not started right now, we will never be able to establish a Vietnamese rice brand in the world.
4. In order to join the pilot paddy rice growing program under the Global G.A.P certification, farmer households must have a drying concrete yard, house with standard toilets….etc. Nevertheless, many poor farmers couldn't meet such participation requirements. Thus, it is necessary to issue policies to allow farmer households to participate in the program and receive preferential loans to remodel their habitat to the standard.
5. Localities need to be offered preferential loans for construction of rice milling plants and rice storage silos. The Vietnam Development Bank should have policies to allow private enterprises to receive preferential loans to build storage silos and milling plants. Each region and rice production area should have at least one or more milling plants.
With such accomplishment, we will surely establish Vietnam's rice brand in the world market and it will really alter and enhance Vietnamese farmers' life.
Dang Thi Hoang Yen