Entrepreneur Dang Thi Hoang Yen elected National Assembly Delegate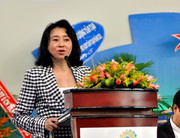 According to the 13th National Assembly election committee, Mdm. Dang Thi Hoang Yen, Chairwoman of the Board of Management of Tan Tao Group has been elected National Assembly Delegate at the constituency No. 1 in Long An Province with 62.36% of votes cast. She expects that her and other delegates' voices will represent citizens and laborers in all parts of the country and will protect their interests and encourage laborers and their children to be innovative in their work and study.
From a very poor and harsh childhood, Mdm. Dang Thi Hoang Yen has become one of the most successful Vietnamese women. She has given birth to industrial park, and has been developing the largest thermal power plant in Vietnam. She has become one of the billionaires in the stock market and has established Tan Tao University, the first international university in Vietnam, a second "Harvard" in Vietnam.
Mdm. Hoang Yen's life is full of energy and determination with untiring efforts to overcome obstacles to achieve success.
Entrepreneur Dang Thi Hoang Yen was born to a poor family's eldest daughter of four children. Her parents often reminded her that: "As you are the leading bird of flock, the direction you fly will be your siblings' direction." She couldn't forget her family's hardships in the years studying in Ho Chi Minh city, the way to school by foot or on bicycle .
She graduated from the Ho Chi Minh Economics University in 1980 and then worked for the District 5's Authority. In 1992, she was appointed Director of the Investment Promotion Center of the HCM City People's Committee. After only 2 years, she had attracted total foreign investment capital worth over US$ 1.5B into Vietnam.
In 1993, she decided to start up her own path. Penniless but the iron-willed determination, she worked for foreign companies with the purpose of saving enough money to realize her aspiration. The place where entrepreneur Dang Thi Hoang Yen chose to start up her own business is a saline land in Binh Chanh district, one of the poorest districts in Ho Chi Minh City during that time. Many foreign investors had pulled out after coming to investigate the site since it was very muddy and full of mosquitoes. Nevertheless, she made a bold decision to invest in it. Tan Tao Industrial Park is an achieved outcome of hardworking, exploration and creation of new things with her hands and her will to achieve success.
"I made the bold decision to invest in industrial parks development although the Vietnamese Government had not yet granted any land to private enterprises to develop industrial parks at that time. In particular, it was also the same time of the financial crisis period 1994 -1999 ", in a note of confidence.
With empty hands and penniless, she has successfully built up a today strong economic conglomerate. Tan Tao is owning and developing 9 industrial parks covering thousands of hectares and many large scale infrastructure projects over the country, which has created thousands of jobs.
"Business challenges are regarded as a tight closed door, but if there is a slit large enough to fit a strand of hair through, I will break that door open to enter" – said Dang Thi Hoang Yen, Chairwoman of Tan Tao Group.
"Our country is poor and backward due to the lack of talents. To have talents for the development of the country, it requires investment in quality education" said Dang Thi Hoang Yen, the founder of Tan Tao University. Any person visiting Tan Tao University in Long An province will be surprised to discover this university provides free education for poor students with excellent academic results and a strong desire of "making great work, thinking big."
According to Mdm. Dang Thi Hoang Yen, the university will enroll 500 students in 2011. Freshmen students will be granted full scholarships worth around US$ 25,000 per year including tuition fee, dormitory, meals, health care and a laptop computer.
"Most students are Hoa Trang Nguyen Prize winners in the last school year. Besides, we will enroll outstanding students from schools across the country". The university enrolment will not completely depend on their transcripts but also on their interview performance. Many smart candidates coming from rural and mountainous areas may not have good academic results because they haven't had studying conditions as good as candidates from cities. Hopefully, through their interview performance, their intelligence, personality and aspirations would be revealed. In their words and in their eyes, students may reveal their aspirations to become successful persons and contribute to their homeland and the country. There will be those who will bring with them their aspiration.
"My father used to remind us 'Only study can help to change our life'. Therefore, after certain achievements, I've always thought about how help providing education to poor students", she recalled.
She is determined to find those students, give them the opportunity make their burning dreams into reality. They deserve to have opportunities. There will not be a strong and rich country without having people with big dreams and capable of absorbing advanced science and technology. Her big aspirations and dreams are being turned into reality in Long An province and in other regions across Vietnam.
At present, serving as a National Assembly delegate, she wishes to bring her voice to represent entrepreneurs and intellectuals to contribute to the making of the legislature, building of legal framework, creation of corridors and promotion of the strategic ideas of industrialization and modernization of the country.
On the other hand, she expects her and other delegates' voice will represent citizens and laborers in all regions of the country, and will protect their interests and encourage laborers and their children to be innovative in their work and study.
Her brother, entrepreneur Dang Thanh Tam with his significant contributions to Ho Chi Minh City has been also elected National Assembly delegate with 57.82% of votes cast. Mr. Tam is Chairman and CEO of Kinh Bac Urban Development Corporation. He has always been ranked one of the richest people on the Vietnam's stock market.
All voters across the country wish the elected National Assembly's activities will represent citizens and contribute to the development of the country.