Woman standing in front of the sea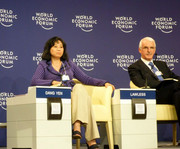 Many newspapers ran headlines about her as: "The richest woman on Vietnam's stock market", "Golden Rose ... billionaires," "Three billionaire siblings" ... In reality, all such titles are given to her as Ms. Yen never talks about herself. The story she shared with us is neither the way to get rich nor for the profits but the one I want to borrow the title of a famous novel of writer Nguyen Manh Tuan to talk about her: Woman ..."standing in front of the sea"!
Pathfinder
In the early 1980s, the novel "Standing in front of the sea" was published based on the realism of Ho Chi Minh City in the period "The Night before "Doi Moi". The sea here symbolizes hard and potentially challenging life. A director of the fishing company abandons the old thinking to embrace the philosophy: "Creating enough properties to keep laborers off leaving the sea." About ten years later, also in Ho Chi Minh City, businesswoman Dang Thi Hoang Yen started up a business, not standing in front of the sea but facing the muddy and swampy land in Binh Chanh District...
Reporter: Back in 1995, the saline area in Binh Chanh district, one of the poorest districts of Ho Chi Minh City, drew many foreign investors to investigate but then they shook their heads and walk away. Why did you riskily make a shocking decision: building such area into an industrial park?
Businesswoman Dang Thi Hoang Yen: At that time, the grooving words "industrial park" was not as popular as present. There had not been any private business granted permission to build an industrial park. On those days, people often thought private businesses were small and inchoate. But I was determined to start up and prove my own path. Unexpectedly, many leaders such as professor Do Quoc Sam, former Minister of Planning and Investment, former Secretary and former Secretary, Chairman of Ho Chi Minh City listened and trusted us and created opportunities for us ...
Reporter: How has this decision affected the starting of your challenge?
Businesswoman Dang Thi Hoang Yen: Before us, other non-state businesses had intended to invest Song Than Industrial Park, nevertheless, they had to nominally be under the partnership. Thanks to the strong assistance and support of initiatives, Tan Tao Industrial Park was granted a permit to be established in 1996 and has been delivered 181 hectares, then 443.25 hectares. It is the first industrial park invested by a private business. Tan Tao Industrial Park has created hundreds of thousands of jobs, transforming the saline area with the population of only about 200 thousand people into a busy and thriving Binh Tan district attracting millions of people. Former General Secretary Do Muoi visited the park and highlighted that "It is necessary to have industrial parks like this during the building of socialism".
Reporter: Writer Lu Xun has a famous quote: "There is no road on the ground. People's travel forms roads". Does your constant and tireless travel help to create a common path for businesses?
Businesswoman Dang Thi Hoang Yen: Tan Tao Industrial Park was established whilst the regional countries sank into the 1994-1999 financial crisis storm. One of the emerging difficulties was capital. We courageously proposed collateral of land and land clearance compensation to secure a bank loan. It was an unprecedented model, but with the dynamic and innovative mind set, the City's leaders asked the Government's permission for a pilot mechanism to allow us to apply. In the period 1996-1997, due to the world economic crisis, foreign investment inflow declined sharply. Thus, with the Party's policy to promote domestic resources, our development path was strongly supported. After such pilot application, on December 29, 1999, the Prime Minister issued Decree No. 178 to permit the adoption of our pilot mechanism across the country; therefore, we've actively contributed to promote domestic resources….
Businesswoman Dang Thi Hoang Yen attends the World Economic Forum 2010.
Reporter: Looking back on 17 years, in your point of view as a business leader, what do you think about the development of innovative economic policies of the Party and the State?
Businesswoman Dang Thi Hoang Yen: On looking back, it had been a "seventeen years with so much emotion" road. As a business leader, I am glad that as each year goes by, the supportive and assistive policies of the Party and the State become increasingly open and create more opportunities for all economic components to participate in the national development. Nevertheless, we still expect new policies to be more open ….
Standing in front of the sea
Reporter: Why do you name Tan Tao for your business?
Tan Tao means creation of new things and making of new things. This name is destined and bound to my business life that always looks for new lands and searches for new paths although the paths are tough and the new lands are swampy, muddy and saline ….
Reporter: If Tan Tao IP is considered the first standing in front of the sea, what is your second standing?
Businesswoman Dang Thi Hoang Yen: It was when I am determined to invest and build Kien Luong Thermal Power Complex. To date, the country is short of electricity, but electricity generation development and investment is just a "playground" of the State companies. Whilst I applied for investment and construction of Kien Luong Thermal Power Complex, it was claimed that the decision was…. a utopia, "A grasshopper kicks a carriage".
The flower garden adjacent to the seashore has been created after completion of the layout backfilling
Reporter: Like in the immense sea, all ships seem to be small. And a private ship.... looks even smaller?
Businesswoman Dang Thi Hoang Yen: There is the basis for doubt because Kien Luong Thermal Power Complex has been in the national electricity development map for decades, and it was a burning dream of planners, but it couldn't be realized. The over-years dream was still in the papers after more than 7 years of investigation many foreign investors walk away on too many difficulties: Shortage of capital (the required project capital of USD 6-7 billion), shortage of construction materials, shortage of performance coal…I think: if Foreign businesses investing in Vietnam have gained successes with the Government's guarantee and support, there is no reason that Tan Tao, a leading Group in attracting foreign investment over the past 15 years, can't undertake it if adopting the same mechanisms as for Phu My and Mong Duong power projects. We have passed a lot of "appraisals" to ultimately receive "nods" from the Government, ministries, branches and localities. Once more, Tan Tao marks a major milestone as the first private business to obtain approval for investment of national key thermal power project. We are the first pathfinder, thus, "there was no path", we had to work with the ministries and sectors together discuss, work and find out the mechanism. We have received great assistance of ministries and sectors, especially the Ministry of Industry and Trade and EVN and the negotiations proceed quickly. We are strongly determined to well execute and complete this Project, opening up new potentials and opportunities for all businesses to participate and solve the electricity shortage problem of the country.
Green industry
Reporter: On arriving in Kien Luong, we were very surprised and did not understand why the layout backfilling were just completed, the project has not commenced yet, there haven't been office buildings, but plants and a flower garden are grown in the middle the sea, very …..costly ?
Businesswoman Dang Thi Hoang Yen: I visited thermal power plants in Japan and the United States. During such visits, I couldn't find any dust when touching the leaves and bricks there. I want to bring that beauty to Kien Luong thermal power plant to remove the obsession about horrible smoky and dusty environment at many thermal power plants. Planting a flower garden in the middle sea is very costly but I want to instill into the mind of workers a "culture". They need to understand they are building a "green-clean-beautiful" plant. On construction of industrial parks – Long An urban zone, and Tan Tao University, we have arranged many green parks, green space and stadiums. Other industrial park developers often grow few plants, it is not because they are not aware of the signification of green space but they want to obtain a high occupancy rate for large profits. Nevertheless, I want each of our projects to embellish the country and bring more happiness to local residents.
River and sea
Reporter: The story today talks much about the sea, with the immenseness and hugeness, but also there are also undersea waves and storms. Does your business story have any time like that?
Businesswoman Dang Thi Hoang Yen: Yes, right in Kien Luong thermal power plant, we have to confront many difficulties (a moment of thought...)
Her pondering minutes in the conversation recalls us the journey to Kien Luong sea area, where before this small and courageous woman has come, besides cement plants and Phu Tu Islet, there was not any outstanding feature like the present "Kien Luong Thermal Power Plant". Standing on the 500 tons ship hurriedly driving huge concrete piles weighing tens of tons into the seabed to build a great wall extending several kilometers to intercept incoming waves for reclamation to create the project layout, we were so surprised that during the economic downturn currently, Ms. Yen has decided to invest more than VND 2,000 billion for mud dredging, backfilling of over 100 hectares in preparation for commencement of the power plant. Observing from the deck, Phu Quoc Island appears blurry in the distance, a westward island names hell on Earth, where thousands of communist prisoners died, a fellow was touched and exclaimed: "Your sacrifice were not in vain as, in Western sea area, many people are working hard to dig up mountains and fill up the sea for electricity of the country." I meet her today, one of the billionaires "being entitled" as one of the richest persons on Vietnam's stock market, having sandwich for lunch and reading the thermal power project documents making us feel greater admiration. However, lately, someone released the news that the thermal power project was delayed and Ms. Yen fled to America. We exchanged with her on this information, she frankly said:
- Although we have not even commenced it, but we promptly prepare the layout like what you see. The persons who fabricated that "the project was commenced but delayed", gave and disseminated false information and sided with criminals and fraudulent contractors who made up exaggerated declaration on the volume of mud dredging and backfilling are being prosecuted and wanted…must be strictly treated. There is no reason why I have to flee whilst the project success is within the reach of our hands, we have been assessing close to the destination, the dossiers and procedures have been completed, the layout is almost finished, the Government guarantee is basically achieved, the financial arrangement is ensured, the negotiation of electricity price has also almost been completed, there are no risks and uncertainties left, with so many efforts, we are going to attain success. Why do I have to flee... fleeing my Fatherland?
It seemed that she was not very concerned about that incident. She kept talking about her plans and dreams. "For a long time, my biggest dream is to build a "City of Sciences" by Vam Co River with a big University in the middle. It is the river where thousands of our soldiers sacrificed and was a revolutionary cradle. Now, I want to build it into a cradle to nurture young talents for the country. Tan Tao University will select and enroll the best students and their tuition fees will be exempted and they will also be given laptops. The University will hire renowned domestic and foreign professors and will build villas for teachers and five-star dormitory for students. I did and will continue to donate 85% of my income and my family's income to the University!" .
She gladly led us to introduce the international standard lecture halls and the villas for professors and deans, the football field for students, tennis yard for teachers ... Before my eyes, her dedicated words has been becoming a reality when the river of business passion and creative labor passion are pouring into the ocean of patriotism and devotion to community ...
ĐUC TOAN - NGUYEN MINH (QĐND)