Announcement of ITAHAN Industrial Park Plan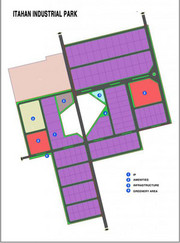 On March 5, 2009, at Duy Tien District People's Committee's Office, ITA Group announced the 1/2000 scale detailed plan of Tan Tao – Ha Nam (ITAHAN) Industrial Park which was approved by the People's Committee of Ha Nam province in the Decision No.192/QD-UBND dated February 6, 2009.
The ceremony had the attendance of Chairman of Duy Tien District People's Committee, heads of functional departments and leaders of communes within the zoning area. Vice President of ITA Group Dang Quang Hanh represented the project owner and Southern Engineering and Informatics Investment Corporation, a consultant of the owner, to present the Plan.
ITAHAN Industrial Park, covering an area of 300 hectares, will concentrate on clean industries comprising processing industry, production of consumer goods and foods, pharmaceutical processing, garments, packaging, plastics, construction and mechanical materials. ITAHAN is located partly in Dong Van town, Tien Noi and Hoang Dong communes of Duy Tien District, bordering the North-South railway and Cau Gie – Ninh Binh Highway in the West and the East, bordering Hong Bang University in the South, bordering Vinashin Beer Plant, Dong Van residential area and housing area of Dong Van Industrial Park in the North.
After the announcement, ITA Group will promptly undertake subsequent steps in compliance with the State regulations to put the industrial park into operation as scheduled.