Awards for outstanding workers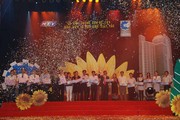 32 outstanding individuals from companies operating out of the Tan Tao Industrial Park were recently honored to receive awards from Tan Tao Group.
The program "Honoring Outstanding Achievement in Manufacture, Production, Business and Study," held by Tan Tao Group in co-ordination with Ho Chi Minh city Television Station was broadcast live on HTV9 Channel on 2 March 2008 at Ho Chi Minh city Opera House. In all, 32 outstanding individuals working in Tan Tao Industrial Park were honored to receive awards from Tan Tao Group.
32 model workers were selected by the Director Board and unions. These individuals have shown great passion and self- motivation in their place of work. They have proved the value of their labor by strongly asserting themselves and greatly aiding the operation of companies and corporations. Each winner was awarded VND 1 million, a campaign medal of the Tan Tao Group and Vietnam-US High Technology Dairy Joint Stock Company (Milky US).
Ms. Vo Thi Dung, President of Ho Chi Minh city Labor Union and Mr. Vu Van Hoa,
Head of Ho Chi Minh City Export Processing Zone-Industrial Park Authority awarding outstanding individuals