Tan Tao Group proposes developing tourism on Phu Quoc Island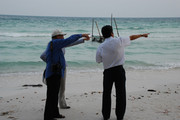 From 14-16 February, 2008, Tan Tao Group and Morris Architects Company (United States) worked with Kien Giang Provincial People's Committee and its related branches on the development of tourism on Phu Quoc Island.
At the meeting, representatives of Tan Tao Group presented a development plan for the transformation of the An Thoi Triangle of Phu Quoc Island into a high-end ecological tourist zone in accordance with international standards of development. The An Thoi Triangle Project is will develop Phu Quoc Island into an attractive place for foreign and domestic tourists. Concurrently the project will allow Vietnam to compete in the global tourism market as an attractive destination for the developing high-end ecological tourism sector that is emerging worldwide.
Leaders of the Kien Giang Provincial People's Committee thought highly of the harmonious and sensitive scheme that had been proposed by Tan Tao Group. They were especially impressed by plans to build a luxury 5-star-standard resorts along the beach, extensive recreational services and expeditions which fitted in well with the island surroundings. Further plans include a 27-hole golf course, a hippodrome, university, residential zones, international airport and regional ports.
On this occasion, representatives of Tan Tao Group and specialists of Kien Giang Provincial Department of Construction engaged a field investigation of the whole island.
Field Study in Dat Do area
Field Study in Sao area
The Meeting