It is tough to sell Vietnamese rice domestically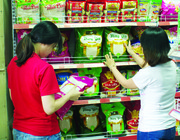 All food businesses wishing to penetrate the domestic market surely can not overlook the commitments of safety and hygiene of their products. To access the domestic market, they need to invest a lot of money in developing their brands, including planting rice seeds, processing, marketing strategies...
Talking about the building of Ita-Rice brand, Mr. Nguyen Tuan Minh, President of ITA-Rice Company, said the company has so far invested no less than VND 200 billion in plants, personnel, rice fields, distribution network and stores. However, its total sales are still "very modest". He explained domestic consumers still get used to buying unbranded rice and haven't yet believed in quality and hygiene rice, which makes the rice companies face many difficulties in entering the market.
"We have 800 hectares of paddy fields growing aromatic rice according to the GlobalGAP standards in Long An Province. Ita-Rice has built drying plant, mill, processing plant, aseptic packaging plant, and we also spent five to six billion dong on the marketing and advertising, but we haven't got the expected results ", Mr. Minh said.
He added ITA Rice plan to put a strong focus on the supermarket channel, distribution points and its own stores together with wide spreading of the Global GAP standards, pictures of rice growing and production process … to make consumers learn more about hygiene rice. At the same time, it will create an online sale service with direct delivery and returns to easily get assessible to consumers.
At the Nosavina Company, the company has to change its approach to work with its retailers and to offer free delivery all days on small orders, applicable to all big or small retailers, not in need of a large storage area. "Make sure there are no impurities, termites and other insects. Furthermore, to ensure the right quality of "New Rice", rice products with duration in excess of 50 days from the date of production, Nosavina is willing to recover and will not charge although the shelf life of rice is 12 months", said Ms. Do Thi My Hanh, Director of Customers Development of the Co May Company.
Moreover, Ms. Hanh added the Co May Company decide to increase commission for retailers and accept low profit to quickly distribute products to consumers. "After all, the demand of retailers also rely on consumer demand, if consumers understand benefits and get used to buying branded rice, retailers will also change its sales practices ". Besides, Nosavina has also implemented the programs of trial products and presenting attractive gifts for customers participating in the trade fair with the purpose of introducing new seasonal rice products to housewives ".
Meanwhile, Ms. Luu Thi Lan, Deputy General Director of JSC Gentraco (Can Tho Province) said the Viet Rice Company, a subsidiary of Gentraco, plays a major role in purchasing, processing, packaging, building the rice brands Miss Can Tho, Co Trang, Ngoc Dong, Ngoc Do, Co Trang fragrant glutinous rice, which are distributed in 70-80 supermarkets of Co.opmart, Maximark, Big C, Lotte ... from Da Nang City to the Southern Provinces and Cities. The Viet Rice Company has built the programs of promoting high quality, environmentally friendly rice products and the Ngoc Dong rice has been certified Global GAP standards, sourced from well-known delicious ST species in Soc Trang Province produced by the Ngoc Doc Cooperative according to the model of one rice crop-one shrimp crop. With the goal of promoting its brands, the company has created a field in partnership with farmers to produce a rice species in accordance with safe and reasonable fertilization practices. Farmers will change their practices to reduce their production cost and produce high-quality rice. The collaboration between Viet Rice Company and farmers has helped farmers' profit increase by over 30%.
Nevertheless, it is not easy to change farmers' habitual practices for producing high-quality rice, Ms. Lan said.